Celebrating a Decade of Dancing on the Northshore! Find out more and make plans to attend- Get your Tickets Now!
Welcome to Mandeville Ballroom Dance Studio! You too can feel confident on the dance floor at any occasion!
You might want to create a beautiful routine for your Wedding dance or meet new friends who share your passion for the thrill of gliding across the dance floor. Or perhaps you've watched enough "Dancing With the Stars" and you're now ready to be part of the fun!
LESSONS Learn to dance Swing, Salsa, Waltz, Foxtrot, and more in our exciting group classes, or get that personal touch in our private lessons. Whether you are learning to dance for fun, or your big wedding dance, you'll find what you need at Mandeville Ballroom dance studio.
PARTIES Party hardy! Put your new skills to use by checking out one of our world famous dance parties! (Okay, maybe not "world famous") We offer monthly (family-friendly) dance parties, with an electrifying mix of danceable music, great for Salsa, Swing, Tango, Ballroom, and many other styles of social dances.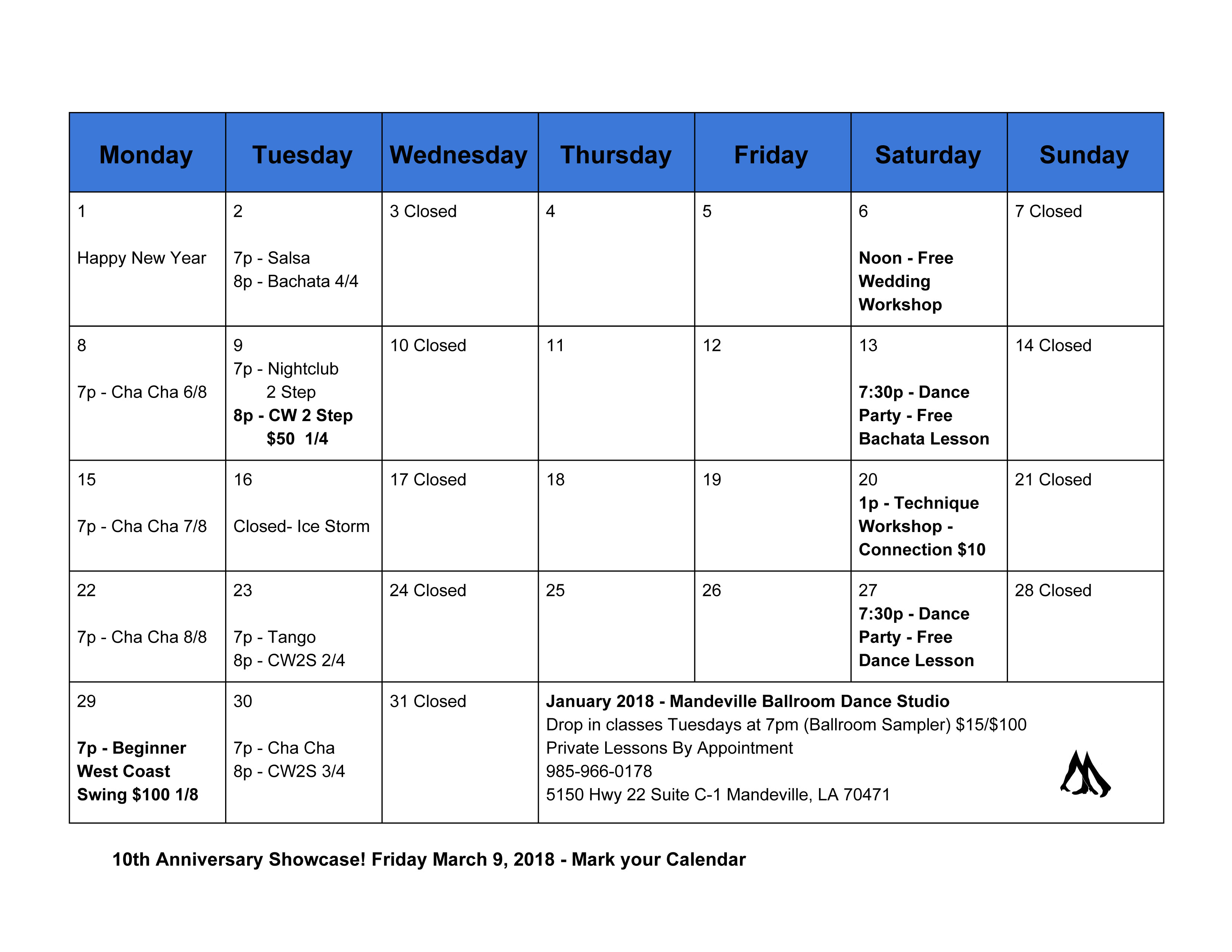 TL;DR: Click for info.
SHOWCASE is March 9, 2018! Celebrate 10 years of dancing on the Northshore!
NEW CLASSES begin Tuesday January 09, Monday January 29.
WORKSHOP January 20 - Make plans to attend. This is great stuff! $10.
PRIVATE LESSONS are available throughout the week.
Sampler Class- Tuesday 7pm The beginner group series is going strong! In this class series, you can learn the basics of Ballroom, Latin, and Swing dancing- have a blast learning with other dance enthusiasts!
Print a Flyer for your friends
January 02 - Salsa January 09 - NightClub 2 Step January 16 - Tango January 23 - Cha Cha January 30 - Swing
Beginner Country 2 Step Tuesday 8pm (4 weeks)
Just for Fun, Learn to Country 2 Step in this 4 week class series. Begins January 9, and continues through 4 weeks. February and beyond, TBD.
$50 per person for the 4 week series. OPEN TO ALL.
Monday Mastery Classes
Beginner West Coast Swing Begins January 29 This 8 week beginner series covers a single style for an entire 2 month period. Progress from the basic, through many basic figures and develop a good level of comfort and understanding of this dance
No Prerequisite; No Partner Needed! Each 8 week class series is $100 per person. Call or text 985-966-0178 for more info.
Dance Parties! (January 13) DANCE LESSON INCLUDED
7:30pm - BACHATA LESSON
8pm - Mix of Great music!
$10 - Admission, including the lesson.
One of my first questions when I began my journey into ballroom dancing was, "Where can I use this?" At the time, I had to travel to the Southshore or Baton Rouge to find quality Ballroom dance parties. Here's your opportunity to enjoy great music and friends without the extra travel time!
Private Dance Lessons
Any time! Any Dance! If you would like a more personalized dance experience, focusing on a special dance or personalized routine, schedule private dance lessons. All the best dancers agree, private lessons are the best way to quickly learn and perfect your dance steps. BOOK NOW
Showcase of Ballroom March 9, 2018
Celebrating 10 years of Dancing on the Northshore, we are planning another blowout dance showcase! Last year many people came to enjoy our student performances. We are currently crafting new showcase performances to tickle your fancy! Click the pic for details.
Aaron D. Smith | Mandeville Ballroom Dance Studio |
985-966-0178 | aaron@mandevilleballroom.com | http://mandevilleballroom.com